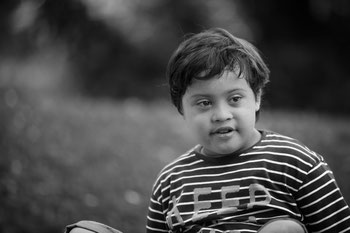 Die Mama des kleinen Prinzen hat ein neues Projekt: inspiriert von anderen Ländern möchte sie, dass Kinder, Menschen mit anderen Bedürfnissen auch in der Welt von Mode und Schönheit wahrgenommen werden.

Erste Fotos sind fertiggestellt. Nun wage ich ein erstes Telefon und der liebe Mensch am anderen Ende der Leitung fragt mich: "Was möchtest du denn für eine Geschichte erzählen?" Mit dem Risiko, mich ohne Ende zu wiederholen, langweilig zu wirken, möchte ich erzählen, dass der kleine Prinz
mir Glück und Liebe mitgebracht hat




in mir eine Vision in mir angezündet: die einer vielfältigen, bunten Welt, in der alle mit ihren Unterschieden für ihr Wesen und ihre Talente geschätzt werden




mir täglich im gemeinsamen Zusammensein die Kraft gibt, für diese Vision einzustehen



Nun hoffe ich - wie bei jeder Geschichte - dass sie möglichst viele Menschen berührt und ein happy end findet....

Little prince' mama has a new project. Insprired by other countries, she would like to see children, human beings with other needs also included in the world of beauty and modeling.  The first fotos are done. I dare to make a first phone call and the nice person on the other end warmy asks me: "Which story you want to tell?"  And, with the risk of repeating me over and over again, of boring the readers, the story I would like to tell should read like this:

the little prince brings me love and happiness

he inspires me to a vision of a world where diversity, different talents and beauty and all the colors of life are welcomed and appreciated

every day he gives me the strength to try to embody that vision

and now, of course, as for every story, I do hope that it will touch many people and finish with an happy end....