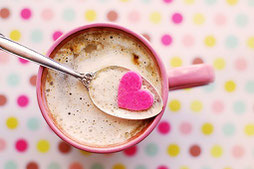 ".....Mothers typically aren't great at putting their own needs ahead of their kids', and from my observations, that is even truer in the disability community. There is just too much work to do, so we just keep on going. I know I need a break, though. I know I need more help in order to get that break. But putting forth the effort to make that change is almost too much to add to my list, so I just deal with it. With more cupcakes, of course. Obviously, that is not the solution, not even a short-term one. Eventually, I need to slow down and address my own issues in order to become the parent that most people might already think I am. I need to learn to breathe, relax, and finish books I start then put away because something else is jockeying for my attention. I need to rediscover the activities I enjoyed before I was tasked with the awesome responsibility that is parenting a child with a disability. I need to take care of myself."
Wie könnte denn "dieses für mich sorgen" aussehen, damit es eben nicht ein Auftrag mehr wird, den wir abarbeiten müssen?
Vielleicht ist für sich sorgen viel weniger mit "tun" als mit "sein" verbunden. Nichts. Tun. Nur. Sein.
Die vielen verschiedenen Aufgaben, die wir alle perfekt bewältigen wollen und müssen entwickeln sich zu einem Strom, der uns immer weiter von uns selbst wegträgt. In den wenigen ruhigen Minuten setze ich mich in und erkenne mich kaum selbst. Wer ist diese Frau, die hier sitzt? Wie ist sie so geworden? Kenne ich sie überhaupt noch? 
In vielen Beratungsstunden, in denen für sich selbst sorgen Thema war, empfahl ich meinem Gegenüber als ersten Schritt meist eine Tasse heisser Schokolade und ein Klatschheft, ein Ausflug in das Leben anderer Menschen. 
Heute kommt das Klatschheft nachher. Nach dem ersten bewussten Atemzug, der mir zurückmeldet "du bist da". Nachdem mir  meines Herzschlages gesagt hat "du lebst". Ich schaue mich um und denke, wie farbig und interessant die Welt um mich herum auch sein kann. Der Stuhl trägt mich, meine Füssen berühren den Boden.Der Lärm um mich herum kommt in Wellen. Ich kümmere mich nicht darum. Ich will mich selbst hören.
Alles ist gut. Ich bin da. Von Leben erfüllt. Gewiss, dass ich stark genug bin, willkommen zu heissen, was immer mir das Leben bringt.
Für sich selbst sorgen: nichts für mich tun, sondern mit mir sein. 
...because my thinking was inspired by an english post, I obviously need to translate my thoughts. 
How can that "I need to take care of myself" look like so that it isn't just another task to fullfill? 
Maybe to care for ourselfves is much mor related to "being" then to "doing. Not to do anything. Just. Be.
All these different tasks which we have and want to deal with perfectly, they finish by pulling as far away from our core. In the few quiet minutes I have, I sit down and wonder who that woman is, sitting here. How did she become this way? Do I still know her? 
In many counselling hours, we discussed the topic of self care. Usually, I recommended hot chocolate and a gossip magazine to start with.  
Today, the gossip magazine is at the end. After the first conscious breath that gives me the feedback "you are here". After listening to my heartbeat telling me "you are alive". I look around and see how coulourful and interessting the outside world can be. The chair is supporting me, my feet touch the ground, the noise around me comes in waves. I don't care, I am busy listening to my self. 
Everything is fine. I am there. Full of life. Certain that I am strong enough to welcome everything that life wants to bring me. 
Self care: not to do anything for me, but be with me. 
Text by Jen Franklin Kerns, 3/10/2017, Down Syndrome on The Mighty